Who is Aunt Momo?
My given name is Mara Roche, and I grew up in Sonoma, California on my parent's cattle ranch. In 1982 my parents Joseph and Genevieve decided to plant grapes on their land and in in 1987 they started the launch of Roche Winery to the public. Momo is because my niece couldn't pronounce Mara and I loved it.
Most of my life has been involved with helping my mother with preparing the food for the events in the winery and when I graduated from college I took it up full time. I'm blessed to not only live in the wine country but I am doubly blessed to be from the San Francisco Bay Area and the options for ingredients for recipes are never-ending.

My family's winery!
If you want to find out more about my family and our wines feel free to check out the winery's website. Roche Winery & Vineyards
Even better come for a visit! Our tasting room is in downtown Sonoma and open most days and early evenings; except for Thanksgiving and Christmas. 122 West Spain Street ... look for the orange umbrellas and a smiling crew!
When I'm not in the kitchen I'm on the bay with East Bay Rowing Club! www.eastbayrowingclub.org
I am a self-admitted crazy-chicken lady and love all my girls! I have Brown Betty, Marilyn Monroe, Oreo, Elsa and Anna -- I have four nieces it had to be done, Funny Face, Damsel -- because she's always in distress, Mae West, Sinead, Sterling, Audrey and Spike!
I am also the mother to a super-sweet 13-year-old Treeing Walker Coonhound mix "Agnes" and a crazy 2-year-old Maine Coon "Rocky."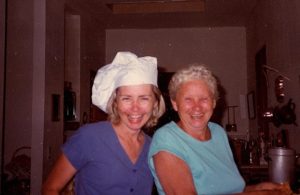 The ladies that began my passion of cooking
This is one of my favorite photos of my mother and Gram-gram together in the kitchen. Their kitchens were always filled with laughter, wonderful scents, and constant motion. I first started this blog because I didn't want their recipes and what they taught me to disappear, so I am slowly updating this site with theirs, their friend's and my recipes for all of you to try. Eat well, drink better, laugh loud and enjoy every sunrise! xoxo Aunt Momo